Easy Innovations' Speedeck is a new decking tool which aims to put an end to the tedious and time-consuming method of positioning and fixing decking boards one at a time. Lightweight, durable and easy-to-use, the Speedeck partitions up to five boards at a time with perfect gaps, according to the manufacturer, which saves time, money and energy. It keeps hands safely clear of nail guns and enables the user to install decking boards in less than half the normal time.
Nicobond
Plastic Ply
Nicobond's Plastic Ply is a 2mm thick, self-adhesive timber reinforcing sheet designed to facilitate the bonding of ceramic, porcelain and natural stones to timber floors. With its honeycomb structure, it counteracts deflective forces, which prevents fractured or cracked tiles caused by the natural movement of timber, as well as point load. It allows the floor to be raised by only 2mm, where the tiles can then be tiled directly onto the surface.
Shurtape
T-Rex Tape
Popular stateside, Shurtape's new T-Rex all-weather tape claims to be more durable, weather resistant and longer-lasting than any other tape on the market.
With 4 times the staying power, 3 times the holding power and 2 times 'the bite,' this tape is UV and weather resistant, making it suitable for all building needs – and for long-lasting repairs. Plus it produces an easy, clean and quick tear – just right for quick repairs.
Multi Stick
Solvent free and based on new SPUR technology, Sika's Multi Stick boasts grab, high bonding and slip resistance and is capable of bonding almost all materials, both porous and non-porous including glass, marble, brick, concrete, metals and hard plastics.
Sika Multi Stick is suitable for both interior and exterior applications, is completely waterproof and weatherproof and can even be applied to wet surfaces, underwater or in the rain.
It is available in 350ml plastic cartridges.
C.K Tools
Blue Steel Impact Bits
Designed to meet growing demand for impact drills, C.K Tools' Blue Steel Impact Bits are manufactured from tough, specially formulated V8 alloy steel, providing an extended working life compared to standard screwdriver bits.
With impact drills combining much higher rotational torque than traditional drills, the bits feature torsion control technology to withstand the stresses of high torque applications, resulting in less bit breakage.
Alba Krapf
Murxi Lever Bar
Whether it's removing nails, loosening floor coverings, beams or flat roofs, or the lifting and relocating of concrete slabs and panels, the 1,700kg of lifting pressure from the Swiss Murxi Lever Bar will prove a master of many jobs, according to its maker, Alba Krapf. Available in the UK from Redashe, a forged and case-hardened working end is combined with an oval formed steel pipe for sturdiness in heavy duty applications.
KATPod Roof Lantern
The slimmest and most thermally efficient roof lantern in Europe, that's how KAT describes its KATPod. The roof lantern provides aesthetic focus, structural integrity and enhanced thermal performance alongside the addition of 'BioClean' self-cleaning glass, which the manufacturer claims needs almost zero maintenance. Simply choose the frame colour combination, the glazing tint and the roofkit size, and the roof is delivered ready to be assembled on-site.
Spax
Wirox Screws
Retaining the multi-head features, ground serrations and a 4-cut point from former screws, Spax's new range of universal use woodscrews also feature a Wirox coating.
This is an exclusive material from the company that is recognised as providing corrosion protection that is 20 times greater than traditional blue zinc plating (BZP).
The coating is also abrasion-proof and more resistant to stress than blue zinc or yellow plating, meaning the screws are suited to the outdoors.
Redland
Innofix Roofing Clip
All interlocking roof tiles, according to BS 5534, now need to be mechanically fixed with at least nail and clip.
This means that contractors will need to use more additional fixings together with nails in many more projects.
Redland's response to this change has been the development of the Innofix Clip – a new tool-free clip that, according to the manufacturer, promises a time saving of up to 40 per cent over traditional nail and fix systems.
Gorilla Glue
Gorilla Grab Adhesive
This year Gorilla has launched Gorilla Grab Adhesive – an all-purpose, all-surface adhesive.
This move sees a new direction for the brand, which has never before entered the grab adhesive marketplace.
The result is the 290ml cartridge which, with its 'Easy-Flow Formula', is compatible with any adhesive or sealant gun on the market.
It is suitable for both indoor and outdoor projects and is flexible, paintable and even bonds underwater.
Ecotherm
Eco-Liner Insulated Plasterboard
Eco-Liner insulated plasterboard from Ecotherm is suitable for internal wall insulation for solid, cavity or timber frame walls within new and existing properties.
The 2-in-1 board insulates and dry lines walls in one application. Eco-Liner is designed for refurbishing existing buildings to a higher thermal performance.
One board, two application methods: Eco-Liner is suitable for both adhesive dot and dab application or mechanically fixed systems.
The Eco-Liner product can, according to the company, assist house owners, landlords and local authorities to improve the thermal performance of the dwelling in order to comply with HHSRS – Housing Health and Safety Rating System.
Ready Mix Spray Plaster
Knauf MP75 Projection Plaster, is a one-coat plaster that provides a tough and durable smooth white surface ready to receive decoration.
Delivered to site pre-mixed ready to use and specifically designed for machine application, the manufacturer claims that the material offers productivity up to three times faster than traditional plastering methods.
It can be applied up to 20mm thick in one application and is suitable for use directly onto blockwork, uneven in-situ concrete or thin joint blockwork. The plasters dry quickly and are easy to finish – just spray, level, sand and paint.
Base
Work Boots
Available in the UK through Brian Hyde, Base safety footwear is lightweight and flexible, featuring the latest technology to leave feet feeling less tired than standard safety boots and shoes.
Toe caps are slim, to avoid pinching and the majority of boots in the range have composite rather than metal ones.
Regardless of how many steps a builder may take in a day, comfort is improved because of the "TPU-Skin", which makes the soles on many of the shoes and boots in the range ultra-flexible, so that they cushion your foot and bend with you as you work.
The TPU-skin sole is also tough and slip resistant. Rather than a metal strip in the mid-sole, Base footwear also offers an anti-ballistic, Kevlar style strip, which is lighter and more flexible.
Gorilla Shovel
When you first hear the term "Plastic Shovel" you're not expecting something quite like the Gorilla Shovel.
The Shovel is a solid, single piece plastic shovel made from a very thick, high quality plastic which claims to be able to do the same job as any other shovel.
The shovels are hi-viz, non-rusting and non-sparking due to the fact they are made from durable, high grade plastic.
The plastic complies with all EU manufacturing standards.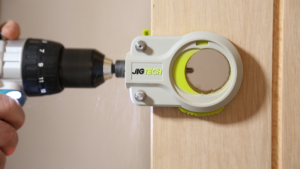 Dale Hardware
Jigtech 
Jigtech is a new door handle and latch fitting system designed and developed by Dale Hardware.
The manufacturer claims the system reduces fitting time from over 25 minutes as standard to less than five minutes – a reduction of 80 per cent in time.
The jig itself acts as a guide for the holesaws creating a fail-safe method of producing perfect latch and handle boreholes.
The auto-centering feature of the Jig means there's no need to measure and mark out the position of the handle and latch hole as the Jig does it for you and with the pre-marked spade bit depth gauge, it's impossible to go wrong when drilling the keep.
Bohrfixx
Starmix Dust Attachment
The Starmixx from Bohrfixx is a simple-to-use accessory which claims to be the dust free solution for vacuuming directly next to a hole being drilled.
Available in the UK through Addex, this attachment for a vacuum pipe fits all regular household and industrial vacuum cleaners.
It allows for completely safe, dust-free drilling in walls and ceilings without additional help from a second person or juggling with a hose nozzle.
OSC
Carpenters Mate Flat Head Screws
Designed and developed specifically for sheet materials, the higher-quality Carpenters Mate flat head screws from OSC are available in a variety of sizes to suit a wide range of insulation and roofing applications.
According to the company there is no pre-drilling required and the flat head provides extra hold with sheet materials. Each box contains one free drill bit.
Smart
Purple Series Blades
The new Purple Series multi-tool blades from Smart have an advanced Titanium Alloy coating giving extreme cutting capabilities and extra-long life.
The multi-layered coating keeps the edge sharper for longer and drastically reduces friction, enabling higher speed cutting in not only timber and wood embedded with nails, but also with screws and small bolts.
According to the company the blades are proven to outlast other 'long-life' blades on the market by over 50 per cent, they fit the vast majority of oscillating multi-tools currently available.
Toupret
Humi-Block Filler Coating
Humi-Block is a filler coating solution for walls damaged by dampness. It blocks water while keeping the substrate water vapour permeable.
It prevents ugly, defective and decorative coatings deterioration associated with dampness flooding and water ingress.
Over exterior walls it operates as a damp proof filler, which blocks water penetrating the surface of the substrate. Whilst, over interior walls the solution forms a barrier to water while enabling water vapour to pass through the substrate. It is suitable for renovating the raw substrate where plaster has been removed due to flooding.
Synthetic Brush Range
One of the drawbacks of natural hair is that it doesn't perform as well with water-based paints. The fibres can take on water and can cause splay out, which leads to less control and ultimately, a poorer finish.
The development of synthetic filaments – made from nylon or polyester – has led to real improvements in this area. These man-made fibres, used in Purdy's synthetic range of brushes, perform much better in both water and solvent-based paints.
The way man-made fibres are combined is also of interest here. Often nylon and polyester filaments will be used together in professional brushes. Nylon is an extremely durable material so tools will last longer and help painters and decorators achieve a quality finish that stands the test of time too.